The iamsick.ca Spring Roadshow – iamsick.ca blog
We have left winter and planted our feet firmly into spring. With the new season comes a new round of conferences and industry events. This year, iamsick.ca will be going to six from the end of April to the beginning of June. Are you going to any?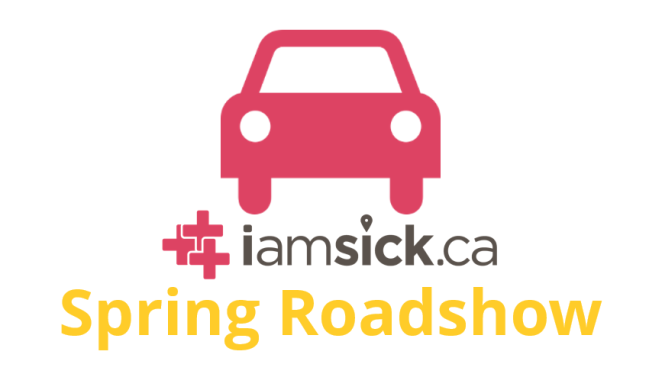 April 27 – 28, 2015: OCE Discovery 2015
iamsick.ca will be joining 2600 of the best and brightest at Ontario Centres for Excellence's Discovery conference next week. OCE Discovery is "Canada's leading innovation-to-commercialization conference." Hundreds of exhibitors will be present to showcase the latest and greatest in innovation, research and technology. Word has it that a Youtube co-founder will be there!
OCE Discovery will be held at the Metro Convention Centre in downtown Toronto.
April 30, 2015: AppsForHealth 2015
Focusing on digital health, AppsForHealth is where attendees and network with leaders in the industry. Many students and professionals attend this event. This year's two keynotes will be looking at privacy and the future of wearables.
AppsForHealth will be held at Mohawk College in Hamilton.
May 1 – 2, 2015: UTIHI QuIPS Conference 2015
QuIPS is organized by the University of Toronto Chapter of the Institute for Healthcare Improvement Open School. The focus of this conference is to look at quality improvement and patient safety. This year's theme is Efficiency. We look forward to chatting about how iamsick.ca can help improve healthcare process and efficiency and patient satisfaction.
QuIPS will be held at the Li Ka Shing Institute at St. Michael's Hospital, in downtown Toronto.
May 6 – 9, 2015: PRI-MED Primary Care Today 2015
An annual event, PRI-MED Primary Care Today is the largest Canadian CME/CE focusing on primary care. The conference includes series of workshops, keynotes and an exhibition floor. Thousands of family/general practitioners, pharmacists and nurse practitioners will be present.
PRI-MD Primary Care Today will be held in Mississauga.
May 7, 2015: HealthKick 2015
You may have heard already that we are a finalist at this year's HealthKick event. The invitation-only event is where we will pitch our company to investors and other industry leaders for a chance to win this year's pitch competition. We've been working hard at preparing for this!
HealthKick will be held at MaRS, in the Discovery District.
May 31 – June 2: e-Health Conference 2015
Last but definitely not least, we will be at the e-Health Conference at the end of May. The conference will showcase the latest in e-health, and is the premiere e-health event in Canada. We will be at a booth by the hackathon.
e-Health Conference will be held at the Metro Convention Centre in downtown Toronto.
—
Are you going to any of these events? Let us down below! We hope to see you there.