"No Jab, no job?": Mandating Vaccines at Work – iamsick.ca blog
There has been ongoing debate on whether mandating vaccines in general is the most ethical approach to immunization. With the recent surge of COVID-19 cases however, many employers are now requiring employees to receive their vaccines in order to be able to continue to work. This is following Ontario's chief medical officer of health's release of new vaccination guidelines for healthcare and education sectors.
According to the new guidelines, starting September 7, 2021, all employees, staff, contractors, students, volunteers from high risk-settings such as ambulance services at hospitals and in-home and community care services will be required to show proof of vaccination or a medical reason for not being vaccinated (Ontario Newsroom, 2021). Those who choose not to provide proof of vaccination with two doses will be required to take an antigen COVID-19 test and complete an educational session (Ontario Newsroom, 2021).
Is this new policy effective?
The University Health Network (UHN) has recently confirmed that its current employees who are still unvaccinated by the end of October will be terminated (DeClerq, 2021). The health network's CEO Kevin Smith claims that this newly implemented policy has led to a significant increase in vaccinations, as the percentage of vaccinated employees rose from 85% in late July to what is now 92% (DeClerq, 2021). Daniel Lublin, a Toronto-based employment lawyer, applauds UHN for making it clear as to what will happen if an employee refuses to receive a COVID-19 vaccine (DeClerq, 2021).
The ongoing dispute
While these new guidelines seem to be effective in convincing more individuals to get their shot, the real question is whether employers actually have the right to impose such vaccination mandates. The other concern is what happens to employees who are unable to get vaccinated due to physical and/or medical conditions.
As such, it becomes clear that implementing new guidelines are not as black an white as the "no jab, no job" policy. In a recent CTV interview, employment lawyer Jon Pinkus states that "Employers are not obligated by law to have their employees vaccinated," but until then, "many employers will likely be dealing with a high volume of disputes from employees" (Cranston, 2021).
References
Cranston, M. (2021, August 24). No jab, no job? Experts weigh in on legality of vaccine mandates at private companies. British Columbia. https://bc.ctvnews.ca/no-jab-no-job-experts-weigh-in-on-legality-of-vaccine-mandates-at-private-companies-1.5558766.
DeClerq, K. (2021, August 21). Unvaccinated employees at Toronto hospital network told they will be fired. Toronto. https://toronto.ctvnews.ca/unvaccinated-employees-at-toronto-hospital-network-told-they-will-be-fired-1.5555653.
Ontario Newsroom. (2021, August 17). Ontario Makes COVID-19 Vaccination Policies Mandatory for High-Risk Settings. Ontario Newsroom. https://news.ontario.ca/en/release/1000750/ontario-makes-covid-19-vaccination-policies-mandatory-for-high-risk-settings.
About the Author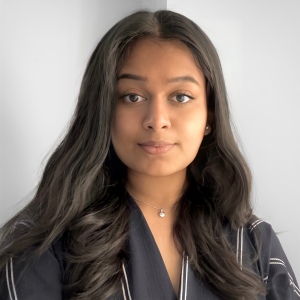 Bairavie Piravakaran (she/her) is a second-year undergraduate at the University of Toronto Scarborough. As a Psychological & Health Sciences student, she values the importance of sharing credible information and making health resources more accessible to the public. Her interests in population health, research, and design are also reflected in her non-academic pursuits—she currently with the Young Leaders of Public Health and Medicine (YLPHM) as a Social Media Manager for the Scarborough Chapter and is a Health Promotion & Analytics Member at Critical Health Innovations Lab (CHIL). At EMPOWER Health, Bairavie works closely with the Marketing Team in order to plan and execute strategies that help inform the public about current health-related topics.